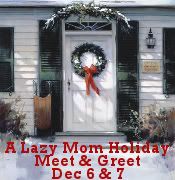 In 150 words or less...
In 140 characters...
I feel like the internet is constantly conspiring against my longevity, trying to get me to "nail down" what I'm about. I tried doing that in my "about me" section which you can find at the top of this page, but I'll warn you... I don't think it does my blog justice.
I'm reminded of Camren Diaz's character in the movie The Holiday ( incidentally, my new favorite Christmas movie) who's a Hollywood movie trailer maker and has the "gift" at making movies seem like blockbusters in 2 minutes or less...
I lack this gift.
Right now I lack the gift because I'm up at 3am having my 4 month old try to unclog my right boob. Yup. You heard me right. UNCLOG.
I'll probably have to go to the doctor in the morning ( the REAL morning, not this horrible fake one thats going on right now) since I spent much of yesterday in a shaky/ feverish state.... We are probably dealing with infection. ... Which is what I would like any new readers I might have to think about when they first read this blog.
INFECTION.
not really.
But, sadly this blog is limited not by word limit or character limit... No, it's limited by my day. WHATEVER day full of military wife-dom, full of new baby mom-dom, or soldiers ministry crazy-dom has to offer, THAT'S what this blog will spew.
For instance we have a new single soldier move in our attic this weekend. I think I'm going to like him, because A. He's from Texas. B. He's currently reading chronicles of narnia. And C. He laughs at me and my husband's joke ( important in any type of relationship)....
So there you have it. In the morning I'll read this and think... Wow, really?!? You wanna tell a whole bunch of new readers about your boob issues?! And then I'll post this anyway, because that's how I roll.